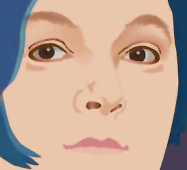 Janell is convinced programming is fun, and that anyone can learn to code if they are passionate about it. She has a BFA in traditional arts, and an MS in computer science, and likes to mix those together. Aside from juggling projects, she teaches simulation and serious game development, teamwork and collaboration, and programming. She's also the Associate Chair of the Interactive Arts and Media Department at Columbia College Chicago and coordinates the Programming BSc, BA, and minor. Read more...
Recent
05/24/2017 Faculty Development Conference Workshop
Wednesday, May 24th, 10:00 am to noon
Optimize Your Online Presence: Practical Tips and Best Practice Sharing for Effective Use of Social Media and Web
Strategizing how to build upon, and improve, our online presence is essential for academics. This workshop is designed for those still unclear on the value of an online presence and how to get started, as well as those who have used social media and the web effectively to meet specific goals and want to push even further. We'll look at web and social networks like Academia, Twitter, and LinkedIn, as well as the methods that make the care and feeding of an online presence less time-consuming. We'll cover fundamentals, and establish milestones and assessable goals for building a personal plan to optimize and improve your online presence based on your own objectives and career goals.
Presenters: Janell Baxter, Associate Professor, Interactive Arts and Media, and Anne Marie Mitchell, Associate Professor, Communication