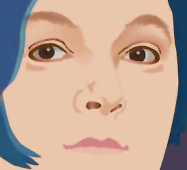 Janell is convinced programming is fun, and that anyone can learn to code if they are passionate about it.
She has an MS in computer science, and a BFA in traditional arts and likes to explore synergies between computing and art. Aside from juggling projects, she teaches simulation and serious game development, teamwork and collaboration, and programming.
She's also the Associate Chair of the Interactive Arts and Media Department at Columbia College Chicago and coordinates the Programming BSc, BA, and minor. Read more...
Fall 2017 Teaching
Object Oriented Programming
Design principles of modularity and abstraction are utilized in the building of applications; object-oriented principles such as encapsulation, inheritance, and polymorphism are covered in depth. Applications created throughout the semester utilize object-oriented, event-driven strategies.
Simulation and Serious Games
Course focuses on designing and developing game-like simulations and serious games. Aspects of the industry are addressed throughout the semester including vocabulary, theory, design requirements (including pedagogical goals), implementation, assessment and evaluation.